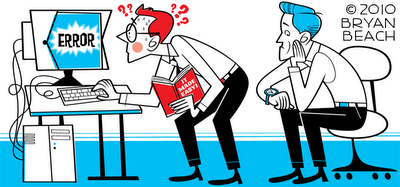 I used a computer technician once who sounded really knowledgeable.  
He spoke about "predictive modelling", "symbiotic relationships", "compliance", "SAS", "cloud computing", "critical needs", "scalable", "VMs", "bare metal deployments", "WAN VM migration", "virtualization", "turn-key solutions", "commercial cloud computing platform"….. Super geek gobbledegook, way over my head!
Basically he was saying, "Get dynamic infrastructures — or die —-!"
Hell, all I needed was my printer fixed!
When the clarion call finally stopped and he got down to work, only then I dicovered this guy could talk the talk but not walk the walk!
He couldn't fix a simple printer problem!
It's hard to tell if someone is overstating their skills, boy, do we we know………….but I reckon, when someone blurts out technical jargon, it's more often than not, a smokescreen.
This experience is similar to the one I wrote about websites a couple of weeks ago. Is your Website a Brick Wall?
i.e. setting up road blocks with walls of jargon.
I just read an article by Michael Hess over at BNet.com titled "Does Your Service Suck ".  You may find it interesting. Click here to read the Article.
A SPECIAL NOTE.
Many thanks to Bryan Beach for letting me use his cartoon. Now if I can only get a Wenzl…
Tags: computer jargon, computer technical jargon, computer technicians, super geek, super geeks, uber geek
This entry was posted on Friday, August 13th, 2010 at 12:09 pm and is filed under
Online Marketing
. You can follow any responses to this entry through the
RSS 2.0
feed. Both comments and pings are currently closed.