With Google's power in the marketplace it's something Small Business Owners shouldn't ignore. Google is serious about Local Search, if you want more visibility online you need to grab your spot.
You've seen how Google is highlighting local in the search result pages (SERPs). Example: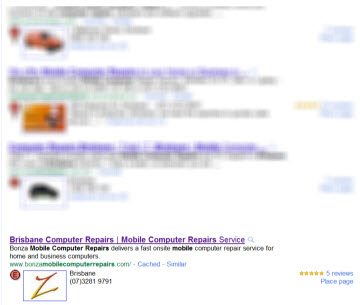 Claim your Google Place, encourage users to leave reviews on Hotpot and Google Places, and take advantage of the free marketing.
See our Places listing above, on the bottom right it shows stars and Reviews and a link to our Places page. Customers can click on either Reviews or the Places page link to write a review and leave a rating. Google adds Hotpot ratings to search results, that's what the stars are about on our Place.
You can make it easy for your customers to leave a review by providing them with a link directly to the "Rate and Review" section of your Google Maps listing.
Go to http://maps.google.com and find your "place". When you're on your page…
Click on "Link" top right of  your Place. A link will appear.

Copy the link into Notepad. Now you're ready to use the link to send to your customers asking them to write a review. When they click on the link they'll be taken directly to your page where they'll see under the main section….

It's a bit unfortunate that everyone needs a Google account to Review but maybe it's there to control spam and abuse, so it's a good thing. Anyone with a g-mail account can login and for others, it only takes a matter of minutes to set one up.
It doesn't end there, why not create a "Write a Review" button on your website with your Google Maps link behind it? You could even send the link in customer surveys or your thank you pages. Anytime you are communicating with a client is an opportunity to ask for a review.
If you have claimed your spot, you'll also be listed in;
Google Universal Search,
Google Maps,
Google Earth and Mobile Search.
BONZA TIP: When you claim your Place be sure to set the account up using a g-mail email JUST for Places because once you've claimed your place you cannot edit/change the email.
If you have a mobile business that provides services all over Brisbane like Bonza Mobile Computer Repairs, you can mask your physical address which may not be relevant to the greater areas you service. You can see we've masked our physical address in the image above. Hey, why not try it and CLICK HERE to Write a Review!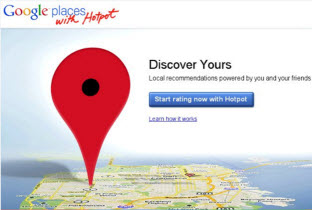 Hotpot helps consumers find products and establishments based on the experience shared by other consumers. It's basically a social networking site, user review and local search website rolled into one. Hotpot also comes with seamless integration with Google Maps.
Here's a great video that explains Places and Hotpot better than I can.
Using Google Hotpot for your small business
Tags: google hotpot, google local search, Google Maps, Google Places
This entry was posted on Saturday, February 19th, 2011 at 3:58 pm and is filed under
Google Places
. You can follow any responses to this entry through the
RSS 2.0
feed. Both comments and pings are currently closed.