On the 8th of June Google rolled out Caffeine, their new indexing system built to make search up to 50% faster and results fresher. It means more frequent updates to Google's search engine index and better results for businesses like yours.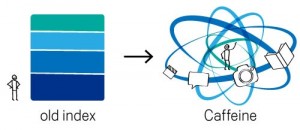 The old index had several layers. Google used to analyse the entire Web every couple of weeks to update its index. This caused significant delays because content could not be updated until the entire batch (everything in their index) was updated. There were always delays between when they found your site and when they made it available.
Caffeine analyses smaller portions of the web more frequently and subsequently updates its search index on a continuous basis. New pages, or new information on existing pages, can be added straight to the index which means more relevant search results for users and your fresh content to appear faster. It is all about enabling deeper processing and managing an ever growing web.
How will Caffeine affect your current website?
Well, the free search results space has become more competitive for one, and it'll be harder to retain your current ranking and sustain it. You're going to have to take part in Google's intent to provide the latest and greatest search results by ensuring your website offers new and relevant content if you want to stay in the top of rankings.
How does Caffeine impact on SEO?
Nothing that Bonza doesn't already attend to now, but some factors have become more vital.
1. Page Load Times: Page load times is a critical part of Caffeine. If your website is old and heavy it might be time to slip it a bit of caffeine to give it a pick-me-up.
2. Social Network: By adding your 2 cents worth,  posting comments, joining discussions and posting your own articles and leaving a link to your website in your signature will encourage traffic to your site and show you as an authority in your niche. Your clients and prospects will like more info as well.
3. Content/Site Updates:  Updating your old tired content and adding new information has just become a priority. Adding a blog to your site is the easiest and less expensive option. If you can delegate the task to one of your staff to make regular posts. You need someone committed to posting new, interesting and informative information, stuff that your clients/prospects will want more of.
4. Google AdWords: Caffeine prioritises organic (free) results rather than paid advertisements but that being said, page load time will affect your PPC account and your campaigns Quality Score. Which means the page your ad points to better be good, fast loading and relevant.
5. Avg Time on Site: You've seen in your Analytics reports Average Time on Site statistic? This has become an important factor in Caffeine because, again, Google's ultimate goal is to return the best results to its users. So if your visitors aren't spending time on your site you haven't captivated them! The length of time they stay on your site is a measure of relevancy and a vote of confidence. If a page has a high bounce rate, it's time to update it.
Summing Up
Google's Caffeine relies on sites that are updated quickly and frequently. Your site isn't going to generate much traffic if it just sits there. It needs change, and often. That's nothing new really. Haven't we always said you need to keep adding fresh content?
Here are a couple of things you can do;
1. Update you site content, add new content.
2. Submit an updated xml sitemap to Google to provide a road map to all your new content.
3. Add a Bonza CMS (Content Management System) so you can add and update content on the fly.
4. Change your site to a WordPress site. It's a more flexible CMS than Bonza's.
Tags: google blog, google caffeine, google real time searches, googles new index, seo