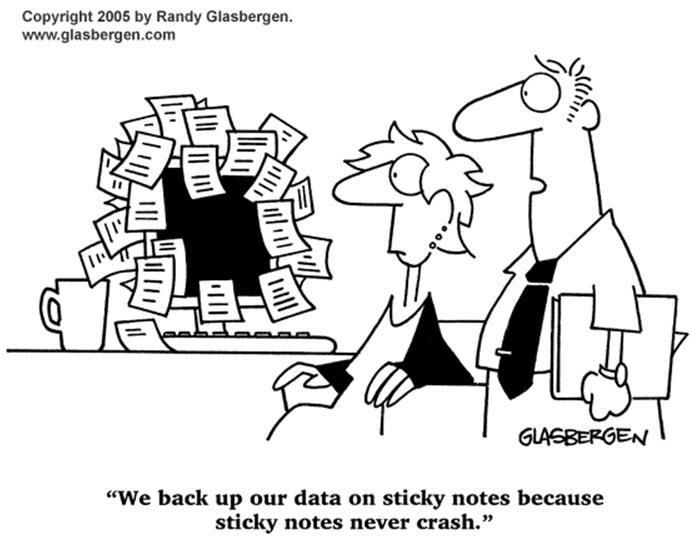 Are you confident backups happen in your business each day without fail?
Remembering to do a backup seems to be one of the main problems according to Bonza technicians out in the field.  Other backup failures are technical, like accidental deletion, hard-drive failure, and virus and spyware corruption. For some reason, many people don't consider backing up data as a top priority until it's too late.
All your business data and records, customer records, banking information, financial and payroll data, personal files, music downloads and image folders and videos can be lost in an instant!
What backup system do you use?
DVDs, CDs and pen drives are suitable for transferring data. However DVDs and CDs take time to burn; the process requires human intervention.
Tape backup is expensive, time consuming and potentially vulnerable to degradation. Tapes have to be categorised and managed and archives should be kept securely offsite. Obviously this process relies heavily on human intervention.
RAID arrays are useful for business – yet not untouchable, as they are still susceptible to failure. RAID implementations usually cost more to install and to recover data from.
External hard drives require software, hardware, media and the time necessary to set-up and protect your data on a daily basis.  The hardware and media deteriorates over time and you need to keep checking it in case it needs replacing.
An external hard-drive kept in your car or USB thrown into your handbag at the end of each day does not qualify as secure, offsite backup. The risk of theft or loss is still high. Did you even remember to take it offsite? 
Clearly a more efficient and secure backup solution would be where there is no user intervention, no user's commitment to memory, no tapes, no CDs, no USB drives and no manually taking the backup media offsite.
You need Bonza Online Backup
Bonza Online Backup is online. An automated backup and disaster recovery service for servers, computer and laptop users. It provides peace of mind that data backups aren't forgotten and is fully automatic. Once the service is set up, nothing else needs to be done again.
Protecting Critical Data – Your data is continuously backed up as it changes, 24 hours a day, so it's always current. And it's stored offsite at a secure data centre utilizing state-of-the-art security technology.
Unobtrusive Backups – a totally invisible backup operation that unobtrusively backs up data at regular intervals without interrupting your workflow…keeping critical data assets protected and maximizing end user productivity.
On-Demand Recovery – Instantly recover your data to the point of failure, eliminating downtime and data loss that occurs when relying on a previous day's CD backup.
Lower Costs – no hardware or software purchases, and a fully automated process requiring minimal employee time or resources. This effectively decreases your data protection costs.
Suitability
Online backups are suitable for any size business. Our backup service can be used by a SOHO or large companies equally as well for a low monthly fee. There are no hidden costs.
Tags: automated backups, online backup service, online backups, secure data backup system
This entry was posted on Sunday, April 17th, 2011 at 12:01 pm and is filed under
Bonza Online Backups
. You can follow any responses to this entry through the
RSS 2.0
feed. Both comments and pings are currently closed.