When I make changes to a website, often I receive an email back saying,
"I can't see the changes!"
That's because your browser is accessing information on your local disk rather than the new pages on the website's server. You're looking at a cached version of your website – the old page. The easiest method is to Refresh your active window by hitting the Refresh button at the top of your browser. Both the F5 key and CTRL + R work to reload the current web page too.
My Refresh button looks like this;

 If these methods don't help, then it's time to clean your cache.
It's a good thing because it forces you to clean up your system by clearing out temporary internet files (cache), cookies and browsing history which will make your browsing more efficient and faster. Web pages will load faster and it frees up space on your computer's hard drive.
What is Cache?
Cache is temporary storage on your hard disk where recently viewed web pages are held. It allows you to quickly load a previously visited page without having to reload the page and its images from the web server next time you visit the site.
How to clear your cache: PC using Internet Explorer 
  In the Tool bar of your browser:
 • Click on TOOLS.


Select INTERNET OPTIONS in the dropdown list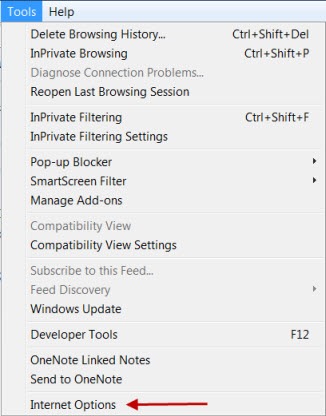 • Select the GENERAL tab.
• Select TEMPORARY INTERNET FILES.
• Select DELETE FILES.
• Click OK to remove the cache.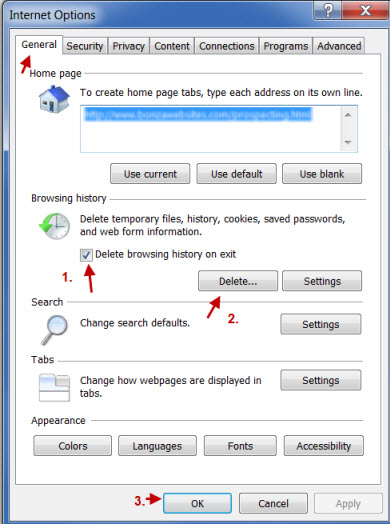 What are Cookies?
The main purpose of cookies is to identify users. For example, you may have filled out a form on a website, a cookie is made so you can enter and leave the website without having to re-enter the same details over again. The information is packaged into a cookie and sent to your web browser which stores it for later use. The next time you go to the same web site, your browser will send the cookie to the web server and the page will often present the form already filled in.
And Browsing History, what's that?
A browser's history is a log of all the sites that you have visited.
How is a web browser's cache different from its history?
The cache is the elements in a web page, pictures, cookies, text.
I clear my cache regularly to speed up my browsing and to ensure I'm looking at the most current version of my websites.
Tags: browsing history, cached webpages, cookies, how to clear cache, refresh a browser, what is cache
This entry was posted on Saturday, May 7th, 2011 at 11:47 am and is filed under
Websites & SEO
. You can follow any responses to this entry through the
RSS 2.0
feed. Both comments and pings are currently closed.