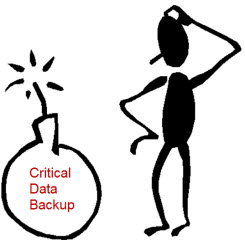 Anthony and I went on our bi-annual holiday last weekend, down to Kingscliffe midday Saturday, home and refreshed midday Sunday… ho hum…
We met up with our dear friend Angie who was visiting from Christchurch, NZ. She had been at work in her 7th story office when the recent earthquake devastated that city. Angie and other staff were lucky to be rescued by a team using a crane, and were lifted out of the 7th floor balcony to safety after some terrifying hours in limbo.
Her office building is still a "no go" zone, so, although all their business data is intact, they cannot access it. They're trying to pick up the pieces of their business the best way they can. From memory! Hopefully they'll be back to normal one day soon.
Angie's brother, on the other hand, lost everything. A complete wipe out. He lost his offices, equipment and files – everything he needs to keep his organisation going. Luckily, no personnel were injured or killed.
Within 48 hours Simon was back in business!
How did he do it while others are still struggling? (more…)