How to Engage your Market
Knowing, and understanding, Best Marketing Strategies in this digital world becomes overwhelming with the massive amount of information online. You end up with bits of information from too many sources, most of it is old and some is contradictory. You don't know who to trust, you're confused and information overload could cause hospitalisation!
Every business should read this free 76 pages eBook, Google's Winning the Zero Moment of Truth. It's a free download, last time I looked.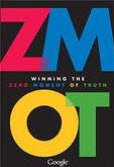 It's a comprehensive marketing book for this very moment in time and the near future.
Winning the Zero Moment of Truth, has a wealth of information revolving around traditional marketing strategies in the digital age, showing you what word of mouth looks like online, how conversation on social networks and user reviews influence purchase decisions, and even how Google's +1 button will influence search results for many users in the near future.
All the overwhelming dribs and drabs on the internet telling you "you should do this and that", confusing the hell out of you and causing information overload is all resolved in ZMOT.
If they've removed the free download let me know , I have a copy of the PDF.
Tags: Best Marketing Strategies, free eBook, Google zmot, How to Engage your Market, Winning the Zero Moment of Truth, ZMOT
This entry was posted on Wednesday, July 20th, 2011 at 2:21 pm and is filed under
Online Marketing
. You can follow any responses to this entry through the
RSS 2.0
feed. Both comments and pings are currently closed.