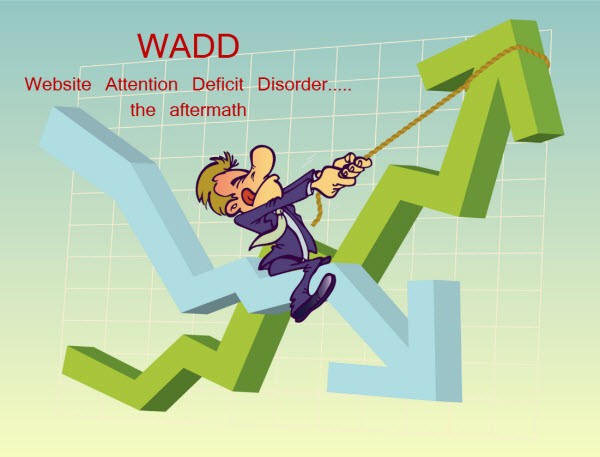 Do you suffer from WADD (Website Attention Deficit Disorder)?
You can't afford to put up a website and leave it just sitting there. The Internet is not static and neither should be your website.
Online user behaviour has changed. Mobile search has exploded, social networking has altered the way people connect online, and search is getting more and more personalised. You have to keep up, and you have to adjust your website and online strategy accordingly.
SELF DIAGNOSIS:-
Answer the following questions, if most results come up negative, you have a serious case of WADD and you and your website need urgent attention!
Do you keep an eye on your site analytics?
Do you know what medium people are using to find your site?
Are you generating new leads with social media?
Are your keywords even still relevant?
Social Media
Facebook
Do you have a killer Fan Page, including a "Like" button?
Are you building and engaging with a Fan base?
Are you putting up special offers?
Do you have the "Like" button on your home page/product pages/thankyou pages on your website?
Do visitors "Like" what they experience on your website?
Google +
Have you added +1 buttons to your site, cart and Blog?
Are you networking on G+?
Twitter
Have you created an account?
Are you building and engaging with followers?
Do you Tweet content (Blog posts, articles etc.)?
LinkedIn
Have you created an account for your business?
Do you feed your Blog posts & Tweets to your LinkedIn account?
Are you participating in groups and questions/answers?
SEO
On-Page
Is the content, foundation and structure of your site SEO friendly?
Are the keywords you're targeting even relevant?
Do you update (refresh) info and add content if needed.
Do your links use keyword-rich anchor text?
Off-Page
Do you have quality links?
Blogging
Have you installed a Blog as a subdirectory on your site?
Are your plugins properly set up and configured?
Do you post often?
Are RSS Feeds set up?
Are your posts tagged correctly?
Marketing
Email Marketing
Do you email your client database regularly ( e.g. via a Newsletter)?
Shopping Cart
Do you upsell from your shopping cart?
Do you check cart abandonment figures?
Reviews/Testimonials
Do reviews and testimonials feature prominently in your marketing material?
Local/Mobile
Is your website mobile friendly?
Have you claimed your Google Places?
If you have anything to add to the list, please let me know via the comments feature below.
Don't waddle!
Regards Ros
Tags: mobile search, online strategy, social networking, static websites, wadd
This entry was posted on Monday, July 25th, 2011 at 3:38 pm and is filed under
Social Media
,
Websites & SEO
. You can follow any responses to this entry through the
RSS 2.0
feed. Both comments and pings are currently closed.