Here's a copy of my quick response to an email I received this morning asking "What's a bad bounce rate?"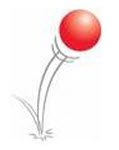 Bounce rate is the percentage of single-page visits in which the person left your site from the entrance (landing) page i.e. a visitor, as soon as they arrive at your website, immediately leaves without visiting any other pages within your website.
Anything over 50% is not good. 30% to 40% is not bad but definitely not ideal. Ideally bounce rates should be about 20% – 30%.
The most common reasons for high bounce rate is content which might not be unique and fresh, and second, the page structure is confusing.