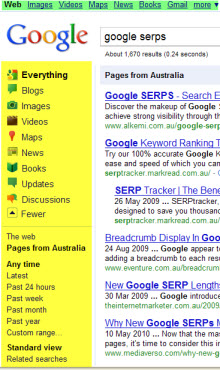 Significant changes occurred to Google Search Results Pages (SERPS) at the beginning of this month, including the introduction of a navigation menu in the new 3 column layout.
Search options have been available for a while (at the top of the page as text links – they're still there) but the new panel on the left make them more visible to users. Google believes users are "more likely to dig deeper into their queries as the options are now readily available and easy to use".
Is this going to shake up the SERPs and your Search Engine Optimisation (SEO) efforts? 
Weeeelll… yes, when people start using the different search options, they ARE going to see different sets of results. For those of you who have AdWords campaigns it won't make a difference, your ads will appear on all results pages.
The default "Everything" is where Google blends together everything it believes is relevant to your query, regardless of the exact content. This is part of Google's Universal Search enabling Google to provide the "freshest, most relevant results" to any search query/topic a user researches. Results might show a couple of websites, a tweet, a news item etc…
It's not about linking strategies, crawlability and top content anymore, it's about recency. The more you engage in social media, the better shot you have at hitting high placement on Google SERPs that display real-time results.
THE SEARCH OPTIONS
You can filter your search by different types of results (web pages, videos, forums, and reviews, images), by time (recent, past 24 hours, past week, past year), as well as seeing related searches, "wonder wheel" view, or a timeline view.
What it boils down to is ranking in Google's entire group of search engines has become even more important for getting traffic from Google.
Does this mean businesses will have to re-think social media?
Hmm, well, Google has partnerships with Twitter, Facebook, MySpace, etc. which appear right in regular SERPs. This is part of Google's Universal Search. There are lots of opportunities to get your site found in Google other than just regular web search. And this is just organic stuff.
The New Google SERPs Might Mean More Traffic for You!
There are certainly paid search opportunities to think about too.  
It's going to come down to evaluating the different options for any given query you wish to rank for and deciding Where you want to be found in Google.
Where's all this content coming from?
Google has many specialty search engines that it taps into. Below are the ones that the new menu gives access to:
Google Blogs – Google Blogs, blog and RSS/feed content from across the web.
Google Books – Book results from Google's library scanning project and books contributed by authors and publishers.
Google Images – Matching queries to images from around the web.
Google News – News and blog content from across the web.
Google Maps – Google Maps, maps and local listings from across the web and third-party sources.
Google Product Search – Shopping, product and shopping listings from across the web.
Google Video – Video from across the web, including but not limited to Google-owned YouTube.
Google Real Time Search – Updates which show the latest information found by Google from sources such as news, blogs and especially social sharing sites such as Twitter, Facebook and MySpace.
Unlike the other services above, Google Real Time Search does not have a standalone site that you can use.
Google has other specialty or "vertical" search engines besides the ones listed in the new content types area, including:
Code Search – Google's official developer site. Featuring APIs, developer tools and technical resources.
Directory – Searchable directory based on the ODP, combined with their own PageRank algorithm within each category.
Finance – Get real-time stock quotes & charts, financial news, currency conversions, or track your portfolio
Groups – A service from Google that supports discussion groups, including many Usenet newsgroups, based on common interests.
Patent Search – Read and download millions of patents and patent applications.
Scholar – Provides a search of scholarly literature across many disciplines and sources, including theses, books, abstracts and articles.
Google only shows content types for the search engines it automatically checks for any query so data from these verticals don't show up in results.
To further confuse matters, Google also has a few specialized search tools that DO automatically get checked for any query, such as Google Music, Google Health, movie times and more. However, you can't narrow results to these.
The scramble for top SERP positions has just become harder!
Tags: Google Blog Search, Google Books, google changes, google everything search, Google Image Search, Google Maps, Google News, Google Product Search, Google results, google search results page, google SERPS, Google Video, google's new page layout, google's new search options, Google's real-time search, Google's search engines, Google's Universal Search, search engine optimisation, seo