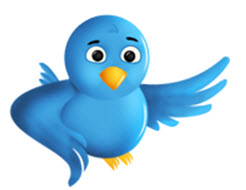 Are you a Twit yet? I have to admit that in the beginning of all the social media hype a few years ago, I was one of many sceptics and publically said it was all stuff and nonsense.
Do you "Get" Twitter?  I could not see the value in writing 140 characters of bite size information and have anyone want to read and respond to it.
Now you see Follow us on Twitter… everywhere.  It's on the evening news, you can tweet your favourite television program. We've also seen the power of it during the recent floods in Brisbane, the people's political upheaval in Egypt and other recent world events and catastrophes.  
I don't think there's any question that Twitter has shown itself to be an incredibly valuable service, especially when it comes to letting people find out what's going on during major news events.
Major brands like, Dell and Samsung, Jetstar Airways, Bigpond, to name a few, are all taking advantage of the free application in order to promote their brand, interact with people and monitor complaints.
High profile people like the Foreign Minister of Australia, Kevin Rudd, and Leigh Sales from 7.30 are twits and even one of my favourite blokes, Stephen Fry, is tweeting up a storm.
Do you still think it's a  waste of time and isn't a priority? Believe me, small businesses are Twittering….Tweeting…Twatting…
No matter what industry or business you're in, because of the massive take up of Twitter, at some stage your customers are likely to be discussing your products and services on Twitter. Active Twitter users are using tweeting through third party programs, it's on phones, email clients, websites and on other social networks such as Facebook and Digg. Your customers are already using it to talk about you and you want to be part of that discussion.
If you're not on Twitter already you probably should be!
There are a number of tools you can use to make the task easier, I'm now interacting with it through other applications that integrate other social media which means I'm not actually logged into my Twitter account.
TweetDeck is the most useful application for managing Twitter I've found. It looks complicated to the untrained eye, but once you get through the learning curve, it's a great time saver.  Here's a link to Tweetdeck tutorials.
Tweetadder is also a good tool too but I'd be careful using the automated submission tools, particularly since the Google Panda update.
Twitpic is a website that allows you to easily post pictures to the Twitter microblogging and social media service. If you're a member of Twitter, then you're already a member of Twitpic. You can post photos from your smartphone or the site itself. Many people used it to post photos during the Brisbane floods.
If you're going to be a Twit…..
Remember, The Quality Of Your Followers Is Better Than The Quantity  and the Quality of your Tweets is your No #1 piority – Don't Spam!

Tags: Tweetadder, Tweetdeck, tweeting, Twitpic, twitter
This entry was posted on Monday, March 21st, 2011 at 7:10 am and is filed under
Social Media
. You can follow any responses to this entry through the
RSS 2.0
feed. Both comments and pings are currently closed.